Celebrant and Bagpiper for Vows Renewal Ceremony
This sunny April day was the 10th wedding anniversary of German couple, Stefan and Manuela. They requested that I be their celebrant for their Vows Renewal at the ruins of St Anthony's Chapel, and of course play the bagpipes for them too!
Edinburgh is a special place for Stefan and Manuela. They have visited many times and they were married in the city on 6 April 2013.
They had already had their eyes on St Anthony as the location for their Vows Renewal ceremony, although I did ask them to consider a nice location overlooking Torduff Reservoir just on the other other side of the City Bypass to the south west of the city, on the edge of the Pentland Hills. Ultimately St Anthony got the call due to the closeness to Edinburgh City Centre and the spectacular views of Arthur's Seat and Holyrood Park.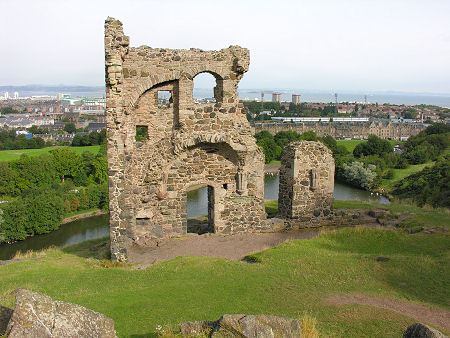 Preparations
Before Stefan contacted me, he had read my blog post about when I officiated for Amy and Joel's symbolic wedding ceremony in 2019, also at St Anthony's Chapel. Stefan and Manuela were already keen to perform the traditional Celtic Handfasting ritual and the uniquely Scottish Quaich Ceremony. Stefan had previously Manuela what she immediately thinks of when thinking about Scotland. Her answer was Bagpipes! So my ability to play the bagpipes and also perform the role of a Celebrant for Vows Renewal was perfect for them.
With the Handfasting and Quaich Ceremony already decided, I then set about creating an Order of Ceremony for Stefan And Manuela. This I was able to do by having a very enjoyable Zoom call with the couple to get to know them better. Stefan also kindly provided me a detailed biography of the couple; how they met, how they each loved visiting Scotland, and how they got married here in Edinburgh 10 years ago.
I used all this information to give a recap on the couple's lives together, and the journey they had been on which took them to the St Anthony's Chapel in Edinburgh on this day.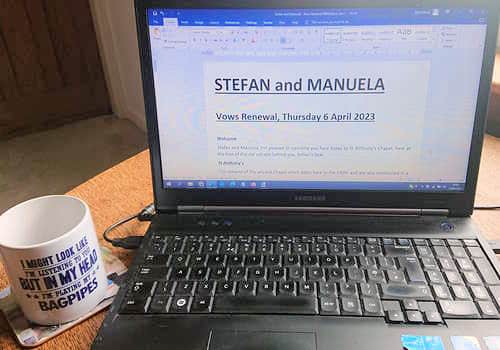 Photography
Stefan and Manuela wished for some informal photographs taken of their Wedding Vows Renewal ceremony at St Anthony's Chapel. They didn't need the services (and the cost) of a professional wedding photographer whom you typically need to book months in advance anyway. However, with only the couple and myself in attendance, there wasn't going to be anybody there to take any photos. Therefore I secured the help of my photographer friend, Sacha Previn.
In his spare time, Sacha likes to take photographs of Edinburgh, but also bagpipers! Follow him on Instagram to see his collaborations with bagpipers such as myself and many of my Edinburgh bagpiper friends and colleagues. Sacha is actually a professional photographer in his own right. In fact, the very next day he was away to Manchester to take photographs for Manchester City Football Club!
On the day
Stefan and Manuela held their Vows Renewal ceremony in the early afternoon. This was a nice sunny day and the sun was in a good position for photographs to be taken.
Myself and Sacha the photographer went up to St Anthony's early. This allowed me to let visitors and dog walkers know that an event was to take place. It also allowed to me to play the bagpipes to welcome them as they made their own way up to the chapel.
Stefan and Manuela actually took a route up to St Anthony's which I hadn't used before, going around the back of St Margaret's Loch. The main path  up  is a bit rocky in places and needs stout footwear. This path is a lot gentler, and easier and quicker to climb (there are some quite high steps though). I wish I had known about this route years ago!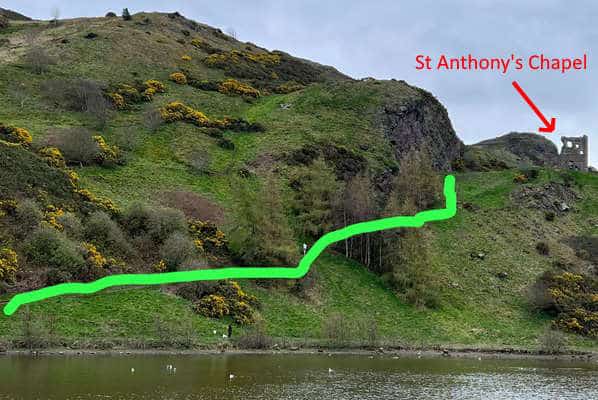 Stefan and Manuela's Vows
Stefan and Manuela provided me with the same vows that they made to each other on their wedding day 10 years ago. These they each repeated after me. I then had them repeat the words of the famous French author, philosopher and Nobel Prize winner, Albert Camus.
Don't walk in front of me, I may not follow.
Don't walk behind me, I may not lead.
Walk beside me and be my friend.
For you shall not walk alone.
My heart will be your shelter,
And my arms will be your home.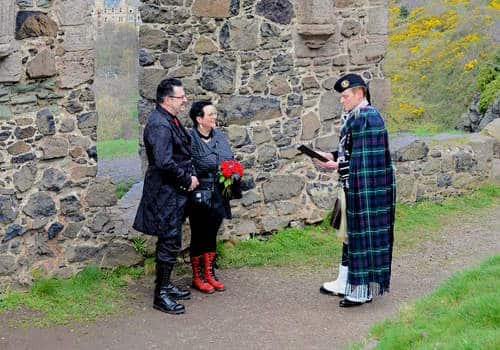 The Handfasting Ritual
Stefan and Manuela requested me to the bring the Handfasting ties. These I got from the excellent and most helpful Scotland Shop on Queensferry Street, Edinburgh. They have a nice little blog post about Handfasting here, and many other interesting posts on all things Highland Dress related, in their Tartan Blog here.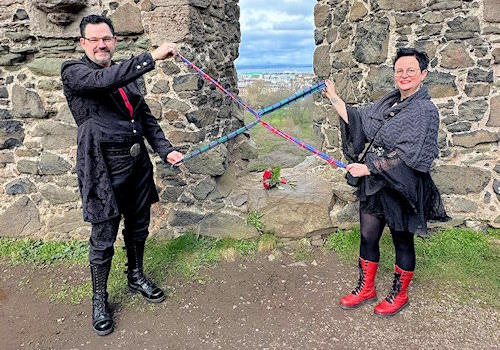 Quaich Ceremony
Wedding Vows renewed and the knot tied during the handfasting… Now it was time for Quaich Ceremony. The quaich being the Scottish two-handled cup, also known as the Loving Cup or the Cup of Kindness.
Stefan had told me that they had both visited the Island of Arran on a previous visit to Scotland. With this in mind, it seemed appropriate that the whisky of choice to fill the quaich should be none other than the Arran 10 year old Single Malt!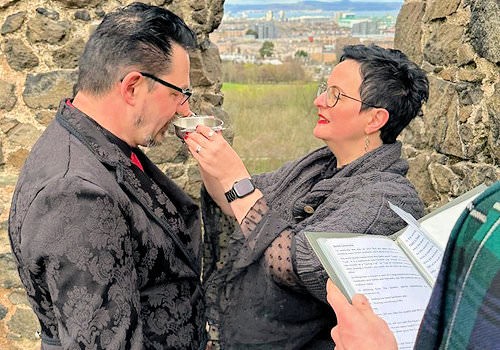 Back to the bagpipes!
Upon completing Stefan and Manuela's Vows Renewal Ceremony, it was time to strike up the pipes for a few celebratory tunes, allowing Sacha and Manuela to soak in the occasion. Then Sacha took some more photographs, capturing the couple with the stunning backdrops offered by St Anthony's – Arthur's Seat, Holyrood Park, and the city of Edinburgh beyond.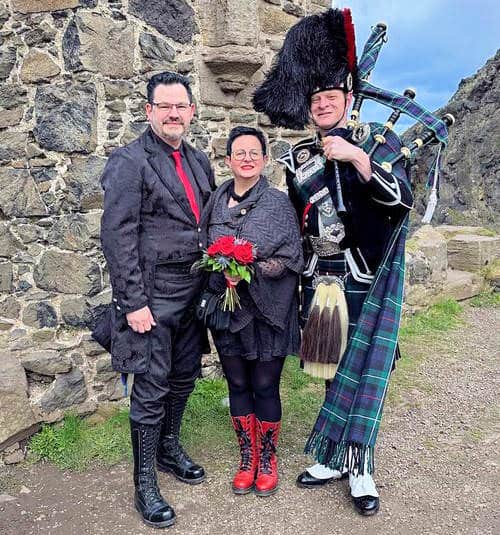 Final thoughts
A fantastic day, and it was a great fun, and a great honour to be both the celebrant and the bagpiper for Stefan and Manuela's Wedding Vows Renewal ceremony. It was so fitting that they were able to hold their ceremony here on the same day that were married in Edinburgh 10 years ago, a place most dear to their hearts.
And finally, it wasn't Stefan and Manuela's wedding anniversary, it was also Manuela's birthday! Happy Birthday Manuela!!
Review from Stefan and Manuela
★★★★★

For our 10th anniversary we asked Glyn to do a ceremony at St. Antony's Chapel ruins on Arthur's Seat.

It started with him playing the bagpipes as we climbed up to the chapel. Then he remembered us with a short summary how we met and married 10 years ago. His words were so well used as if we were friends for years. Afterwards he let us repeat our initial vows of 2013. This made us feel butterflies again. Then he switched to some words by Albert Camus that we also had to repeat. This was very heart-warming.

To renew our vows we also wanted a Celtic handfasting and the sharing of the quaich. Both he did with great passion and skill. Glyn even remembered that we had been on Arran before and brought an Arran malt whisky for the ritual. At the end, in brightest sunshine he played another couple of songs for us before we all walked down the hill together. It couldn't have been better.

The perfect day, the perfect man for the job. As well as a bagpiper and as a celebrant.
Further info
If you would like to renew your wedding vows, or elope to Scotland to hold a symbolic ceremony and have me officiate and play the bagpipes for you, I'd be most happy to help! See my Elope to Scotland page for further details, and for information on how to get married in Scotland, see Getting married in Scotland.