wedding and vows renewal celebrant bagpiper
Celebrant Bagpiper Scotland!
Are you coming to Scotland to have an intimate and personal elopement wedding? Have you had your legal ceremony elsewhere, but you wish to make private vows in a place of history and spectacular beauty with less frills and formality? Or, do you wish to affirm your wedding vows? If so, elope to Scotland!
As an independent wedding celebrant, I offer something a little different to other wedding celebrants. In fact, I'm quite sure that I'm the only wedding celebrant in the world who does this… I can add that must-have ingredient for ANY Scottish wedding; I can play the bagpipes for you too!
This means that you'll have your wedding celebrant and Scottish bagpiper all rolled into one! I'll create and officiate your wedding or vows renewal ceremony, and give you guidance on ancient Scottish wedding rituals, from the oathing stone to the quaich ceremony. AND as Scottish tradition demands(!), I'll play the bagpipes for you, dressed in the spectacular Piper's No.1 Full Highland Dress!
So lace your brogues and find out more…
Edinburgh Celebrant – Why do I want you to elope to Scotland?
Okay, you're going to elope to Scotland! This is a little different – for a start you're running away. I'm loving it!
You won't have anybody telling you what to do. You won't have a large entourage who need to be wined, dined and looked after. Your day is entirely your own!
Firstly, as a proud Scot I am deeply touched that there's something about my country which makes you wish to elope to Scotland for one of the most important days of your life. Therefore I want to share our traditions with you. I once read that being being "Scottish" is not a nationality, but a state of mind. In having you partake in our traditions, I look forward to welcoming you home!
The key thing with your elopement wedding is that it's your day and you get to decide what to do. You maybe haven't been to Scotland before and you're uncertain of how to arrange an elopement wedding. I'm here to talk to you and give advice on every step of your journey. If you're in Edinburgh before your ceremony, I'm happy to meet you, or you can schedule a video/phone call with me at any time of your convenience. Phone me as often you like. Ask as many questions as you like. I just want you to have an unforgettable elopement.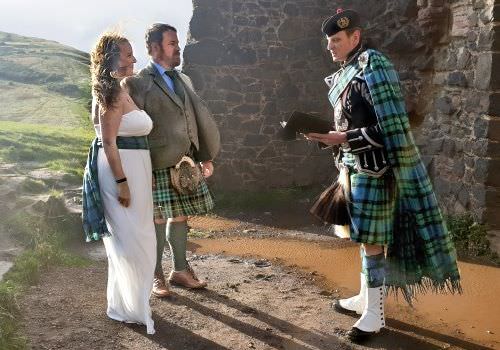 You won't see another Wedding celebrant dressed like this!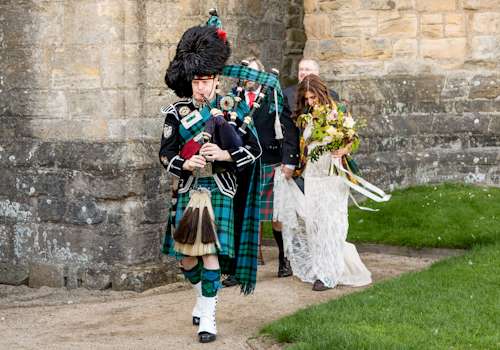 And you won't see another celebrant doing this!
Locations and the Right to Roam
Now even though I'm totally biased, Scotland offers offer the best scenery anywhere. Within a small area we have everything from mountains, beaches, moorlands, lochs, forests and all within easy access from our cities. There are too many historic abbeys and castles to name.
And here's the best bit… You can access nearly all of this land and there's nothing stopping you from getting married there!
The Land Reform (Scotland) Act 2003 gave everybody rights of access to land and inland waterways throughout Scotland so long as you behave responsibly. This is known in Scotland as the Right to Roam.
There are some specific exclusions as you'd expect. You can't just get married in my back garden without asking me, for example. However, the countryside and many of the multitude of ruined castles and abbeys, which are still quite magnificent are completely accessible.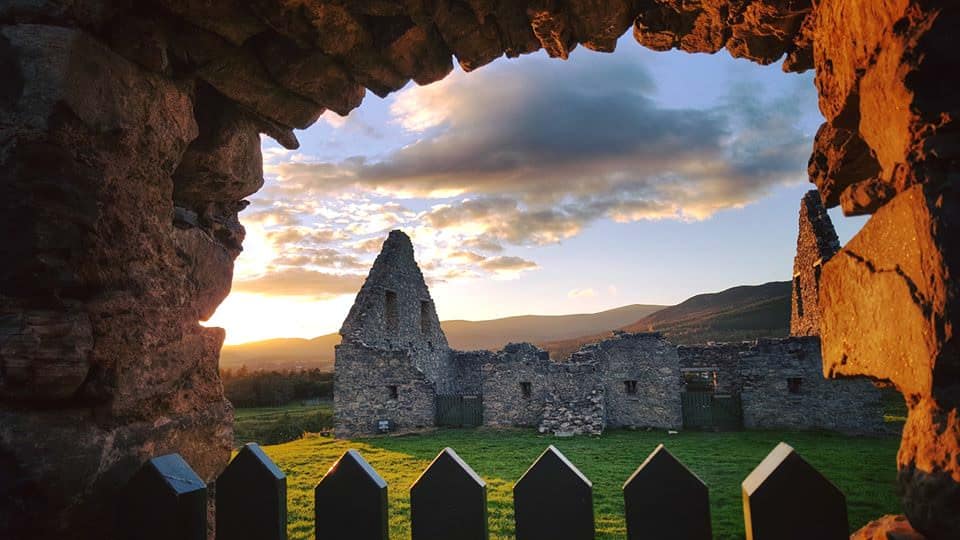 Ruthven Barracks near Kingussie, Inverness-shire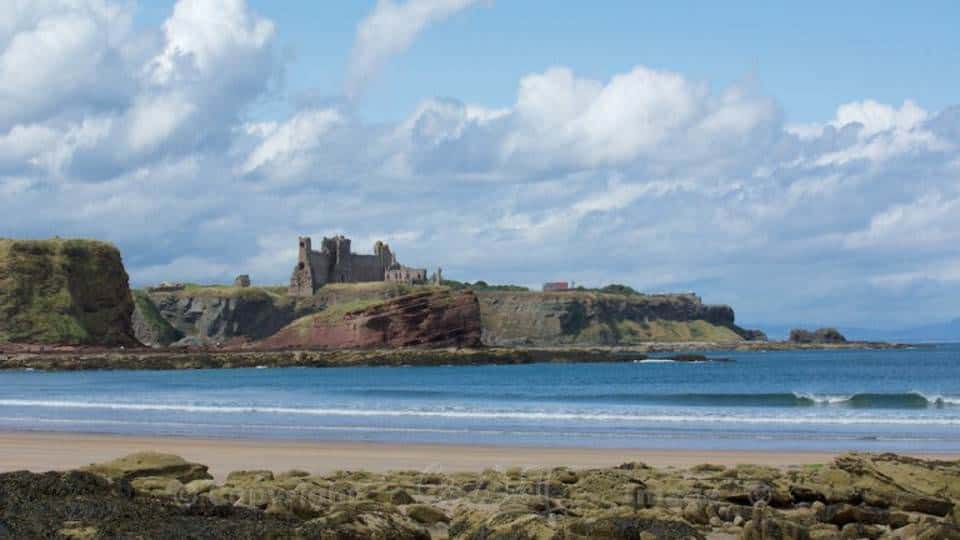 Tantallon Castle from Seacliff Beach, East Lothian
How I work as a wedding or vows renewal celebrant
Glyn the bagpiping celebrant
Most weddings and vows renewals ceremonies have an "officiant" performing the ceremony and a bagpiper, well.., just playing the bagpipes… But what if you could have your bagpiper playing the bagpipes and officiating your ceremony?
That's what I can do for you!
I can officiate your vows renewal ceremony, or if you're getting married and you've already held, or intend to hold your legal ceremony elsewhere, then I can officiate your symbolic wedding ceremony!
As well as performing the role of your Wedding Bagpiper, I perform many of the deeply symbolic rituals which have been performed at Scottish weddings for centuries. Sadly at regular civil or religious ceremonies, many of these cannot be performed by the registrar or religious official.
When I officiate your ceremony, you won't be constrained by "protocols" which may be pre-determined by an official or wedding coordinator telling you what do do. This will be pretty much what they have all their couples do anyway. Boring!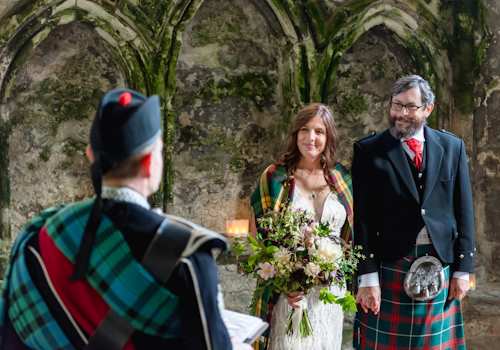 Geoff and Jacqueline eloped to Scotland from New York State. I officiated their ceremony in the beautiful and historic Inchcolm Abbey, on Inchcolm Island in the Firth of Forth near Edinburgh!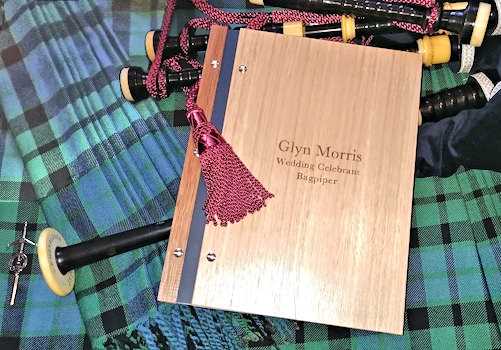 I firmly believe that your story, experiences, and the dreams you share as a couple are the heart of your wedding or vows renewal ceremony.
While wedding rituals hold great significance, they serve as a backdrop to the essence of your relationship and journey together. Highlighting how you met, how you fell in love, and what your marriage means to you both adds a resonating personal touch to both you as a couple, and to your loved ones attending.
I will not be at your wedding ceremony, or vows renewal ceremony only to perform some (admittedly very important) rituals and to play tunes on the bagpipes (admittedly very, very important IMHO!). Yes, I will be over the moon to conduct these rituals with you, but YOU are the main show! Telling the world about why you love each other so much that you're going to commit, or re-commit to each other for the rest of your lives is the most important thing!
Your stories and experiences are the strong roots which make your chosen rituals significant. Remembering that amidst the rituals and formalities of your ceremony, the core focus should always remain on your love story and the life you've built and are building together.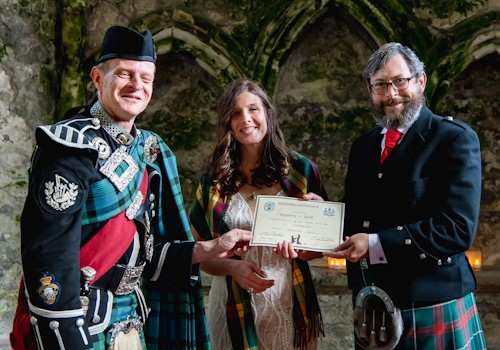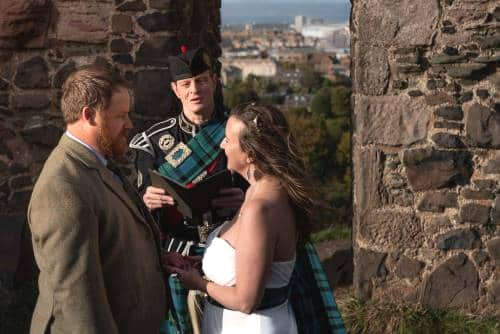 Your ceremony – how do we create it?
1

So first up, please to get in touch and give me a brief rundown on what you're needing a celebrant for. Do you want a celebrant for your wedding, or do you want a celebrant to renew your vows? Just tick the appropriate box on my Contact page.

Please add a little information about yourselves, where you're from, and if you have a location and any dates or a time of year lined-up for your wedding or vows renewal ceremony. Don't worry about giving chapter and verse at this stage though.

2

When I've received your initial enquiry, I'll then arrange for a video call – Zoom, Skype, WhatsApp, or whatever you're comfortable with.

This is just a friendly chat so we can all get to know each other a little, before going any further. You guys have to feel comfortable with me, and feel that I'm the right celebrant for you.

Your wedding or vows renewal ceremony is a huge day for you. Your ceremony should be in the hands of a celebrant whom you feel completely relaxed with!

3

And if after our initial call, you've you've decided that you DO feel I'm the right wedding celebrant for you, then I need to start doing some homework!

This is where I'll start to need some of your time.

First I'll send you an online form with some questions on it for you to complete. I'll ask for general information on you both as a couple – when and where did you meet and special moments you've shared, for example.

This information will not only help to get you both thinking about your lives together, but it will also give me some clues about what I should be discussing with you later so I can get all the information I need to create a truly personal ceremony for you.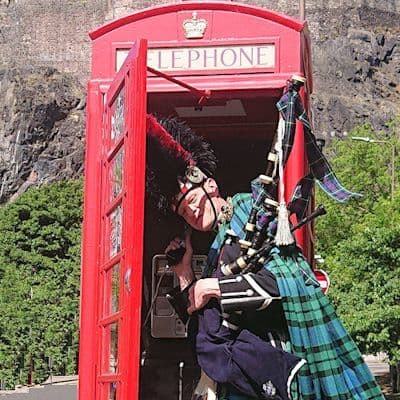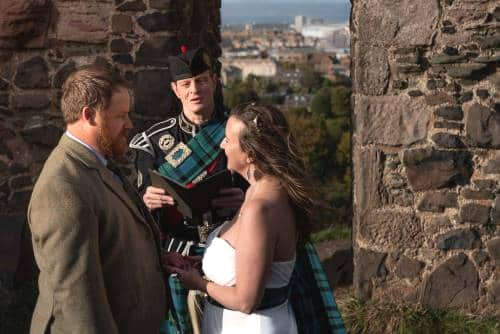 Scottish Wedding Rituals
Your personal Bagpiper wearing the spectacular No.1 Full Highland Dress

Your Marriage Vows

Exchanging of Rings

Celtic Handfasting Ritual

Quaich Ceremony

Gift to the Bride

The traditional Piper's Toast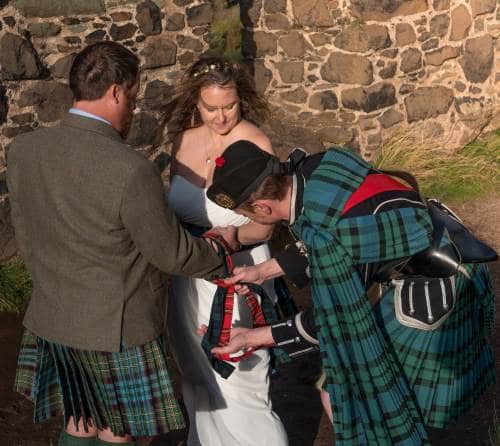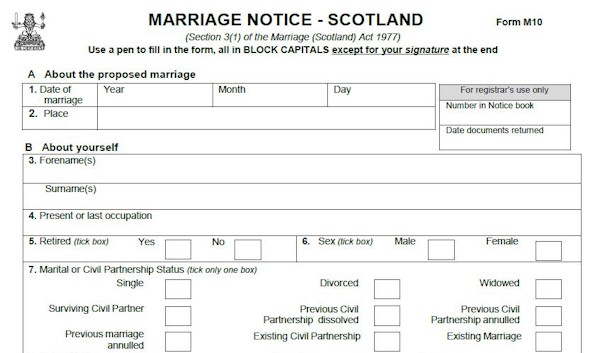 A guide on the different types of Scottish marriage ceremonies, and the legal requirements and resources relating to what you need to do to hold a legally-binding Scottish marriage ceremony.
Bagpiper's Elopement Blog
Celebrant and Bagpiper for Vows Renewal Ceremony This sunny April day was the 10th wedding anniversary of German couple, Stefan and Manuela. They requested that I be their celebrant for their Vows Renewal on the day of their 10th wedding anniversary at the ruins of St Anthony's Chapel, and of course play the [...]

On Friday the 11th of October I had the immense privilege of not only piping at a wedding, but officiating it too! The happy couple were Amy and Joel, all the way from Savannah, Georgia. Amy got in touch with me back in September to tell me that although they had already held their [...]