Bagpipe Music for Funerals
The bagpipes have been played at funerals and other occasions to commerate and mourn the passing of a loved one, for centuries. Consequently, there are many funeral bagpipe tunes which are often played by a bagpiper at a funeral.
There are no "right" or "wrong" tunes to be played though. Whilst Amazing Grace and Highland Cathedral are very good bagpipe tunes for a funeral, there are many other funeral bagpipe tunes which other pipers don't know, which aren't played very often. Here you can listen to both the well known bagpipe tunes played at a funeral, and some of the less well known ones which are equally appropriate to be played as funeral bagpipe music.
The following bagpipe funeral tunes are my suggestions only, based on my experience of being a Funeral Bagpiper, and what has helped given many people comfort in a difficult time, as well as giving their loved one the send-off they deserved. If you would like any other tune or song played which may have a special meaning to your family, please don't hesitate to ask.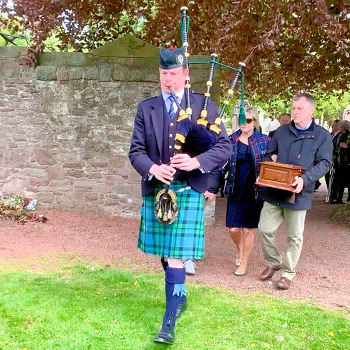 What does a bagpiper play at a funeral?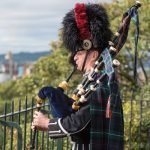 I've recorded some of the best bagpipe songs or tunes to play at a funeral. These range from sombre laments, to tunes which are more cheery to help you celebrate the life of your loved one. Popular funeral bagpipe songs include:
Highland Cathedral
The Dark Island
Amazing Grace
The Mist Covered Mountains
The Flowers of the Forest
My Home
I will return home to Kintail
Flower of Scotland
Erin's Green Shore
The Fair Maid of Barra
A Scottish Soldier
I will return home to Kintail
Funeral Bagpipe Music – Recordings