Bagpiper for Hire Edinburgh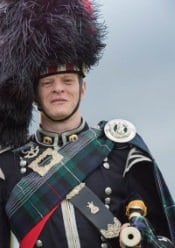 Welcome to Scottish Bagpipers. I'm Glyn Morris, an Edinburgh Bagpiper for Hire of over 30 years experience. I provide a friendly Piper for Hire service in Edinburgh and Central Scotland to add Scottish tradition, flair and ceremony to your occasion.
When organising your event, you'll be super-busy trying to find professional suppliers you can can rely upon, who don't cost an arm and a leg. You may never have had to hire a bagpiper before! Let me help you arrange your piper. My mission simply is to provide you with a piper who is not only of an excellent standard, but dresses magnificently in the Piper's No.1 Full Highland Dress too.
You can be assured of my piping ability by the fact that I play for a top Grade 1 Pipe Band and I've had notable successes in piping competitions against the world's best. I only dress in the finest, genuine military No.1 Full Highland Dress in order to look the very best in your photographs. You can listen to me play, and take my Uniform Tour to see the effort I make to look the best!
Over the years I've built up a close network of Edinburgh bagpiper friends and colleagues. I only work with pipers I have previously performed with, whom I would be happy to have play for me!
Absolutely Brilliant!!!!
Glyn was the perfect choice for our special evening. From my first enquiry I immediately got a good feeling. He was very friendly, helpful and even came up with ideas that he thought might enhance our experience. As we had young grandsons, we wanted them to enjoy the evening as well so Glyn bought along some pieces of uniform and allowed the boys to try the various pieces on. As well as playing some fabulous music he also explained to us about the various pieces of uniform and the pieces of music he had chosen to play for us. Sadly due to Covid concerns we had to turn down the chance of having a go on the pipes ourselves. We all had an a really fun and enjoyable evening and now have some special memories and pictures to keep forever. Whatever the occasion I cannot recommend Glyn highly enough. He looked fabulous, he was very professional friendly and accommodating, and is a great musician.
For our wedding day we had Glyn the Piper. Glyn put on a superb performance for the time we had him right from the get go and left us and our guests amazed. It was a true honour to have him and it gave our wedding day the true Scottish feel. 10/10 for everything.
Glyn was amazing from start to finish. He was so accommodating and gave us ideas for our wedding day. It was such a beautiful day and he offered to pipe our guests from the church to the reception venue which added such a lovely touch to it all. Our guests loved him too. Thank you so much Glyn for making it special and our apologies for taking so long to leave a review. Will definitely recommend :) Alan & Stacy Moran
A great experience from start to finish! From helping us pick which songs and then to our Wedding Day, Glyn was brilliant. Would recommend to anyone who is looking for a talented and professional Piper for their occasion. Thanks again Glyn!
Glyn was absolutely amazing. I hired him for an elopement ceremony at St Anthony's Chapel in Holyrood and couldn't have made a better choice. He was thoughtful, met with me in advance, and did the best job possible. I can't say enough good things about him and his talent in playing the bagpipes!