Edinburgh Bagpiper for Hire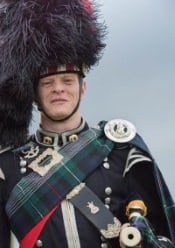 Welcome to Scottish Bagpipers. I'm Glyn Morris, an Edinburgh Bagpiper for Hire of over 30 years experience. I provide a friendly Wedding Bagpiper, Burns Supper and Events piper for Hire service to add Scottish tradition, flair and ceremony to your occasion.
When organising your wedding or event, you'll be super-busy trying to find professional suppliers you can can rely upon, who don't cost an arm and a leg. You may never have had to hire a bagpiper before! Let me help you arrange your piper.  My mission simply is to provide you with a piper who is not only of an excellent standard, but dresses magnificently too.
You can be assured of my piping ability by the fact that I play for a top Grade 1 Pipe Band and I've had notable successes in piping competitions against the world's best. I only dress in the finest, genuine military No.1 Full Highland Dress in order to look the very best in your photographs. You can listen to me play, and take my Uniform Tour to see the effort I make to look the best!
Over the years I've built up a close network of Edinburgh piper friends and colleagues. I only work with pipers I have previously performed with, whom I would be happy to have play for me!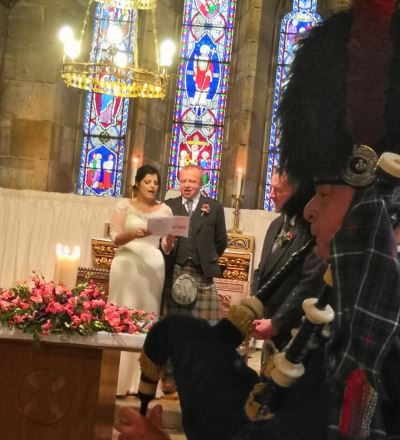 Wedding Bagpiper
Don't hire just any piper for your wedding day. Be piped in by a top Grade 1 competing piper wearing the spectacular Full Highland Dress!
>>
I provide a unique Wedding Bagpiper service, dressed in the finest ceremonial Full Highland Dress, playing both Highland Pipes and Scottish Small Pipes for your wedding day.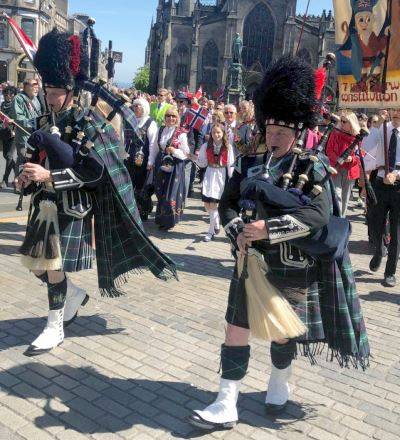 Bagpiper for Events
Are you hosting an Event or Function? Add a sense of occasion and ceremony to any event, and give your guests a fantastic Scottish welcome!
>>
Have your piper welcome and entertain your guests and dignitaries for any event – Burns Supper Piper, Dinners, Tour Parties, Corporate Events, Parties, Hogmanay and more.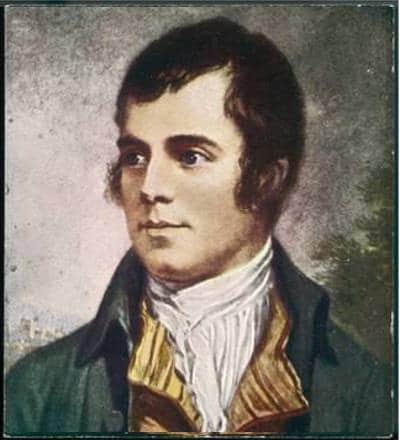 Burns Supper Bagpiper
A piper is an essential part of Burns celebrations or Scottish events where Haggis is served. See the important role a Burns Supper piper plays.
>>
Have a piper for a Burns Supper to welcome your guests, pipe the Haggis in, explain the history and habits of this mystical creature, and recite Robert Burns' famous Address to a Haggis.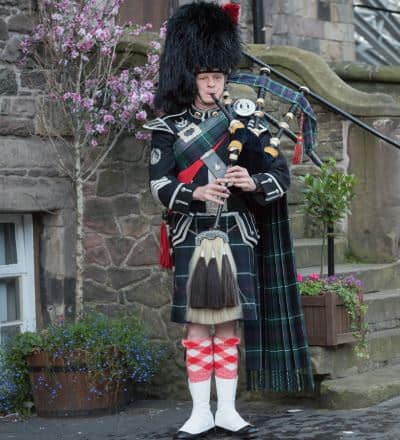 Bagpiper Uniform Tour
See what your piper wears. Take the Bagpiper Uniform Tour to see all the items making up the spectacular Piper's No.1 Full Highland Dress!
>>
You need a piper who plays superbly, and also dresses superbly. I wear the finest military No.1 Full Highland Dress. See the special effort I take to look the best in your photographs!
Listen to me play!
You'll want to make sure I'm a good piper! You can listen to me playing a variety of tunes on both the Highland Bagpipe and Scottish Small Pipes.
>>
Listen to me playing both the Highland Bagpipe and the Scottish Small Pipes, and listen to some of the tunes I'm likely to play at different stages of your wedding day or special event.
Be blown away by the Fife Police Pipe Band!
This prize winning Grade 1 Pipe Band is available for your event
Be blown away by the Fife Police Pipe Band!

This prize winning Grade 1 Pipe Band is available for your event
5th in the World, Grade 1 2018

Wedding Evening Entertainment

Available as full Pipe Band or Mini-Band

Pipe Corps, Drum Corps and Bass Section

Traditional and Contemporary Pipe Band Music played
Here's what people say!
A very talented musician. Glyn was very friendly yet professional on our wedding day. He sounded amazing and our guests all commented on how well dressed he was. Thank you Glyn, just what we wanted for our traditional Scottish wedding.
Glyn piped at a conference we held in Edinburgh. All of the delegates loved the Scottish feel it gave the international event! Glyn was great to work with and very accommodating with extra requests we had for him. Thank you very much!
Thanks for the great Highland Piping from Glyn Morris at our wedding occasion in Edinburgh on the 28th July. The piping both before, during the ceremony and at the reception was well received by everyone at the event and made for a wonderful spectacle on the day. Thanks again for your contribution to a memorable day.