Edinburgh Bagpiper for Hire
---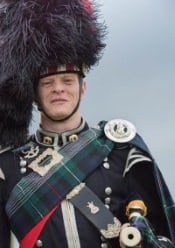 Welcome to Scottish Bagpipers. I'm Glyn Morris, an Edinburgh piper for hire, of 30 years experience. I provide a friendly Wedding Bagpiper and Events Piper for Hire service to add Scottish flair and ceremony to your occasion. As an Edinburgh piper I have performed at countless events including weddings, dinners and parties, British Embassy functions and foreign Trade Shows, to name but a few, at home and abroad.
I'm an active playing member of a top Grade 1 Pipe Band and I've had notable successes in solo piping and pipe band competitions against the world's best. I also believe a piper must look, as well as sound the part, when playing as Wedding Bagpiper or for any other event. Therefore I dress in the finest, genuine military "No.1 Full Highland Dress". Take my Uniform Tour to see the effort I make to look the best!
Over the years I have built up a close network of Edinburgh piper friends and colleagues. I only work with pipers I have previously performed with, whom I would be happy to have play for me!
I provide a unique Wedding Bagpiper service, dressed in the finest ceremonial Full Highland Dress, playing both Highland Pipes and Scottish Small Pipes for your wedding day.
Read more →
Have your piper welcome and entertain your guests and dignitaries for any event – Burns Supper Piper, Dinners, Tour Parties, Corporate Events, Birthdays, Hogmanay and more.
Read more →
You'll want to make sure I'm a good piper! Listen to me playing both Highland Bagpipes and Scottish Small Pipes, and a selection of tunes I will play during your wedding day or special event.
Read more →
I only wear the finest military No.1 Full Highland Dress as my bagpiper uniform when piping at your event. See the special effort I take to look the best for your event and for your photographs!
Read more →
Be blown away by the Fife Police Pipe Band!
The prize winning Grade 1 Fife Police Pipe Band are available for your event
Grade 1 Pipe Band
5th in the World, Grade 1 2018
Wedding evening entertainment
Corporate Events
Available as a full Pipe Band or Mini Pipe Band
Pipe Corps, Bass Section and Drum Corps
Contemporary and traditional Pipe Band music played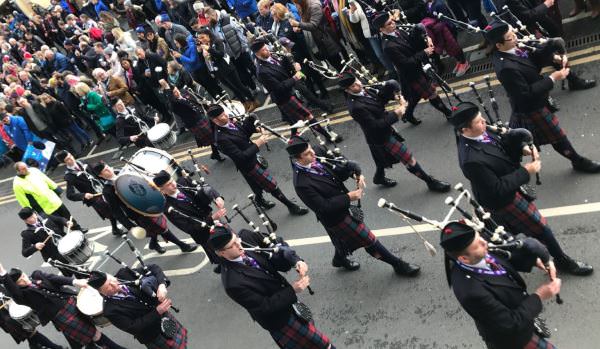 Here's what Peter and Louise said!
It was wonderful to arrive at the ceremony to the beautiful sound of the pipes, and the Small Pipes made the moment for us while signing the register. We couldn't have asked for more beautiful music. Our wedding day wouldn't have been the same without you. Highly recommend Glyn to help make your special day even more so.

– Peter and Louise
Wedding, Drumossie Hotel
And more customers I've proudly played for…