Why book me?
No doubt when you search for a bagpiper, you'll see many websites, social media sites and entertainment agencies, all advertising the services of various bagpipers. Many of these bagpipers are very good and I highly recommend them, but unfortunately there are many whom I do not.
Here's why I'm the best bagpiper for you.
I'm a Grade 1 Piper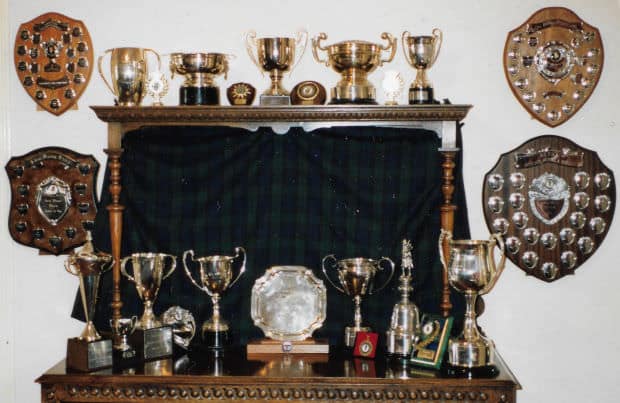 Even if I say so myself, I'm a very good piper! I'm an actively competing member of one of the very best pipe bands in the world; the 
Fife Police Pipe Band
 wins prizes in Grade 1, the highest echelon of pipe bands.
Playing the bagpipes at this level isn't as simple as just turning up and playing. It requires a great deal of commitment and practice. Myself and my fellow band members must play our pipes nearly every day, in order to keep ourselves and our instruments playing at this very high standard.
I'm not a piper who's "retired" from competing and has therefore "has no reason to practice". If pipers playing in a top grade 1 pipe band don't practice, we don't even make the subs' bench, myself included!
As you'll see in the photo of some of my medals, I've won many solo piping competitions too. You only win this type of competition if for the entire performance, you perform very musically, have great technique, a perfectly tuned bagpipe, and of course, play better than everybody else!
YOU must also have a bagpiper with all these skills playing for you!
Why does this matter?
Practicing for, and performing in high pressure competition and concert environments, ensures that I will perform much better for your wedding or event than a piper who doesn't practice regularly. I have the stamina to play better and for longer, and my bagpipe will always be in tune. Many pipers who only perform at events, and only pull their bagpipes out from under the bed on a Saturday, will have a poorly tuned instrument which can be prone to embarrassing malfunctions. This is why pipers who play at my level practice their bagpipes nearly every day. The piper needs to do this to consistently perform at his or her best, no matter the occasion, and the bagpipe needs this to sound its best.
Listen to me play
Listen to me playing a variety of tunes for different occasions, on both the Highland Bagpipe and the Scottish Small Pipes, on my Wedding Bagpipe Music & More page.
Having played the bagpipes for over 30 years, I've performed at all sorts of events all over the world. I've travelled to places such as Aviemore, Instanbul, Edinburgh, Taipai, Sydney, Hong Kong, Zurich, Auckland, Seoul, Angola, Nova Scotia, China, Califonia, Tanzania and Auchterarder.
Closer to home I've performed at countless numbers of weddings and and corporate events.
My experience of playing for so many different types of occasion means that I can give you advice on the bagpiper-related parts of your wedding or event. The standard of my piping and my uniform means you will have a bagpiper who is musically superb, and is also dressed superbly.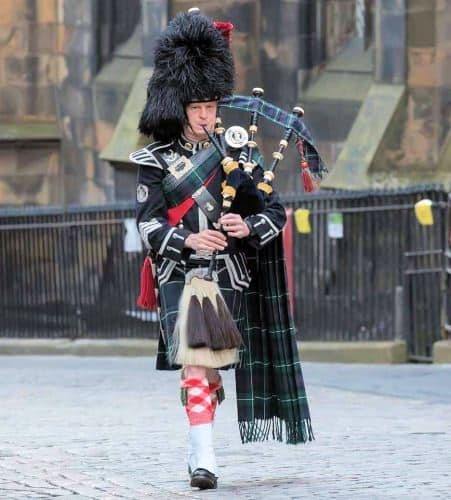 Having a bagpiper isn't just about playing some music. It's about adding a sense of  occasion, ceremony, tradition, and making an announcement. Pipers playing the Great Highland Bagpipe have provided this for centuries. For this, you need a bagpiper dressed in the finest ceremonial Piper's No.1 Full Highland Dress. As you'll see in my Bagpiper Uniform Tour, I take a great deal of effort to source the finest uniform items, and I make sure each item is worn correctly.
I wear three Piper's No.1 Full Highland Dress outfits. No.1 Dress is very expensive, and as a result most pipers only have one outfit. Consequently, they often look very shabby as items wear out or get dirty from playing at many events. Having three outfits enables me to put items "into the garage" as soon as is required, meaning I will always look tip-top at your event, and in your photographs.
If you're booking another bagpiper, please be sure to ask if they wear the ceremonial Piper's No.1 Full Highland Dress, and also ask if this is included in their standard fee.
I don't charge extra to wear the Full Highland dress, but many other pipers will turn up in the very basic, and quite unceremonial Day Dress, or will charge a premium to wear the Piper's No.1 Full Highland Dress.
My prices are extremely competitive for a bagpiper of my standard, and wearing the quality of uniform that I do. I wear the ceremonial Piper's No.1 Full Highland Dress as standard, and I don't charge any extra for this.
For Weddings my price of £275 for my Wedding Ceremony and Reception package, which includes wearing the Piper's No.1 Full Highland Dress, and playing the Scottish Small Pipes is very reasonable. Many other pipers and music agencies will charge around £350 for this same service. Many do not advertise their prices on their website. Often your event is sub-contracted to another piper, whom you will see very little information about.
I do not act as an agency. If I am unavailable for your event, I am happy to recommend one of my trusted bagpiper friends and colleagues to you. I will not take any part in negotiating a fee though.
Please see my current prices at Bagpiper Prices. My prices are flexible. I.e., if you only want me for one part at the beginning of your wedding ceremony, I won't charge the full price that I would if I were to be playing at the end too.
5 Star! – You can check out all of my 5 Star reviews here on Google, provided by many happy customers whom I've been happy to play the bagpipes for at weddings and many other events.
★★★★★
Finally getting round to leaving this five-star review for Glyn, who piped for us on our wedding day in early December. I cannot recommend Glyn highly enough. He was a complete professional, answering any and all questions we had in advance of the big day, and was very happy to accommodate our requests, including piping whilst leading the procession of guests from the church at the top of the Royal Mile, down Johnstone Terrace to our reception venue – one of the standout moments of the day! Glyn was immaculately presented in full piper's garb, and played beautifully. He really contributed to how special our day was. Thank you so much Glyn!
  Richard Demoily, April 2023
★★★★★
Glyn was fantastic at our Scottish wedding celebrations at the Ghillie Dhu. He not only played our guests in but also conducted a handfast and Quaich Ceremony for us. His speech was entertaining and he made it so personal for us. He even gifted me a lucky sixpence which was such a lovely touch. Myself and new husband Stephen can't thank you enough you really made it a brilliant day for us.
  Ashleigh Bishop, May 2023
★★★★★
Glyn is CLASS! He plays famously and looks fabulous. He was such a blast at our Wedding and we are so lucky we got him. Everyone felt it was the magic touch. Glyn piped several times during our Wedding day and also gave a very touching toast at our Reception. Stop looking! He is your piper! Hire him!
Brittany Brodie, Jan 2023
Piper's No.1 Full Highland Dress

The Piper's No.1 Full Highland Dress is the ceremonial Piper's Highland Outfit, with the large hat (Feather Bonnet), Piper's Doublet, Piper's Plaid, Piper's Dirk, belts and a large horse hair sporran.
Jump to my Uniform Tour for more details.
Day Dress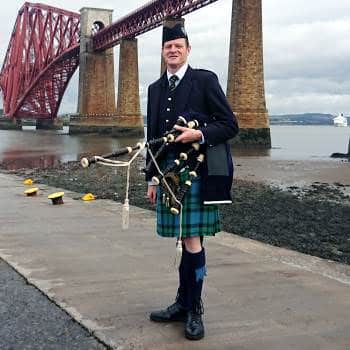 Day Dress is the style of Highland Outfit which is now worn by most pipers and Pipe Bands due to the Piper's No.1 Full Highland Dress being so expensive.
I feel that most people, given the choice, want their piper to be dressed spectacularly in the Full Highland Dress, to add a greater sense of ceremony to your occasion. Therefore I very rarely wear Day Dress when piping at events.
I do wear Day Dress when piping at a funeral though, as I believe it more appropriate and understated than the No.1 Full Highland Dress.