On Friday the 11th of October I had the immense privilege of not only piping at a wedding, but officiating it too!
The happy couple were Amy and Joel, all the way from Savannah, Georgia.
Amy got in touch with me back in September to tell me that although they had already held their legal ceremony in the US, her and Joel wished to hold a symbolic wedding ceremony in Edinburgh. They had already chosen the ruins of St Anthony's Chapel near Arthur's Seat in Edinburgh, which is a favourite outdoor wedding location of mine, offering some spectacular views of Arthur's Seat, Einburgh and across to Fife.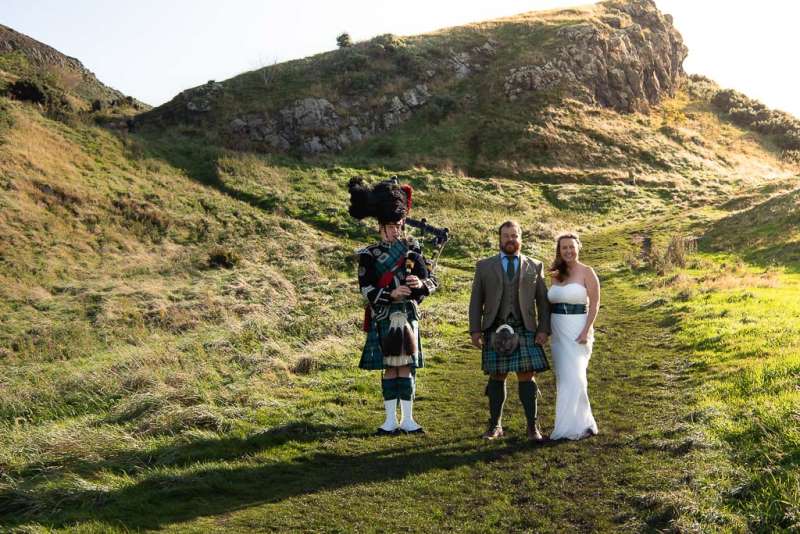 A plan is formed!
Amy had said that they planned on renewing their vows, with just themselves, a photographer and a bagpiper in attendance, but they "were open to suggestions".
Well this got me thinking… As a wedding bagpiper, I've attended many weddings of all denominations and I've seen countless celebrants, religious officials and registrars in action. But.., wouldn't it be cool if you could have your bagpiper and celebrant rolled into one?!
So I proposed this plan to Amy and Joel and they jumped at it!
Amy had said that they hadn't heard back from the photographer they'd contacted, so I recommended they check out (under no obligation) my sister's work at Donna Green Photography. Much of Donna's photography is in natural outdoor, non-studio settings like St Anthony's, so I thought this might be just her cup of tea. Amy loved her work, so they got her onboard too!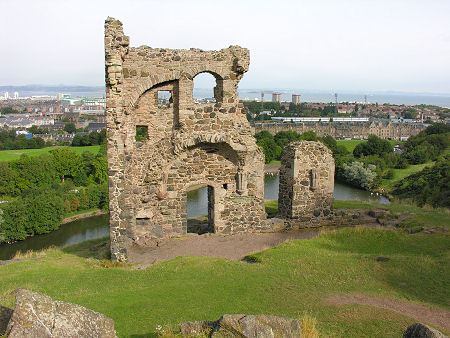 Turning a Bagpiper into a Celebrant
The next step was for me to get my skates on and do some research on how to officiate a Scottish Wedding Ceremony and master some of the key points such as the Marriage Vows and the Exchange of Rings, and the Scottish/Celtic Handfasting Ritual and the Quaich Ceremony.
Needless to say I was paying very close attention to the Celebrants officiating at a number of weddings I was piping at prior to Amy and Joel's day at St Anthony's Chapel.
Countless YouTube videos showing how to tie the knots in the tartan used in the Handfast Ritual were watched, and many practice attempts were made!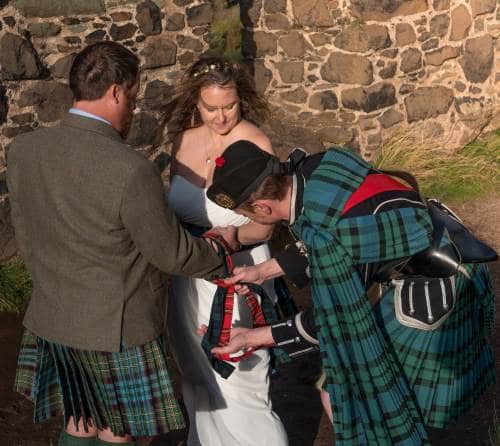 The Vows
Amy and Joel left it up to me create their vows. Now to do this, you really need to get to know the couple in order that their Vows are truly personal to them. A few video chats between Edinburgh and Georgia were held, with them both on the call, and also with each of Amy and Joel by themself.
Amy and Joel are a very laid back and fun loving couple, so it was great to be able to add a good helping of humour to their Vows!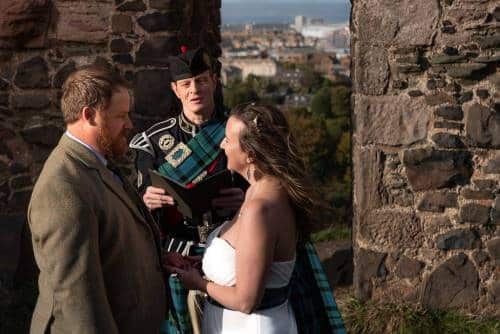 On the day
Amy and Joel held their ceremony in the middle of the afternoon. Although it was in October, it was a nice bright day with just a bit of a breeze.
We met at St Margaret's Loch on the Queens Drive. It was great to finally meet them both in person! After the introductions, I then got the bagpipes out and piped them along the side of the loch to the foot of Arthur's Seat, with Donna taking photographs.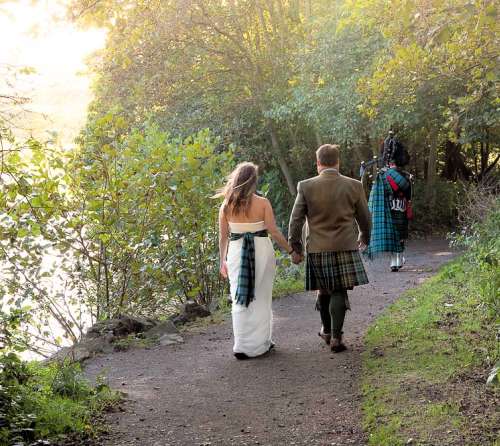 Once around the side of St Margaret's Loch, we were at the foot of Arthur's Seat and ready to make our way up to St Anthony's Chapel.
There is a bit of a climb, but it's not too steep.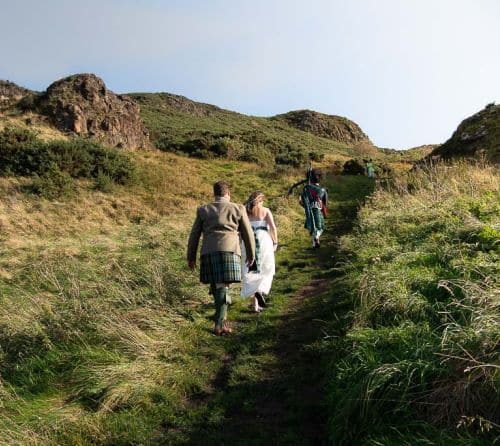 Until you get to this bit!
It's not a long climb though, although flat shoes and a helping hand to anybody with lack of mobility is recommended.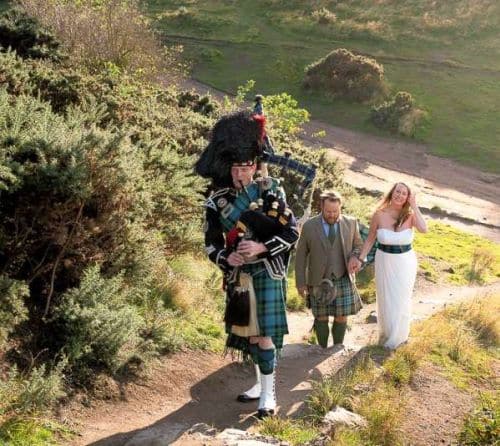 The Ceremony
Just before you get to St Anthony's there's a small rock outcrop, which is where we stopped after our walk/climb(!). I then played Joel along to St Anthony's by himself for him to await the arrival of his bride.
Then I went back to pipe Amy "up the aisle" in accordance to the true tradition of a Scottish wedding!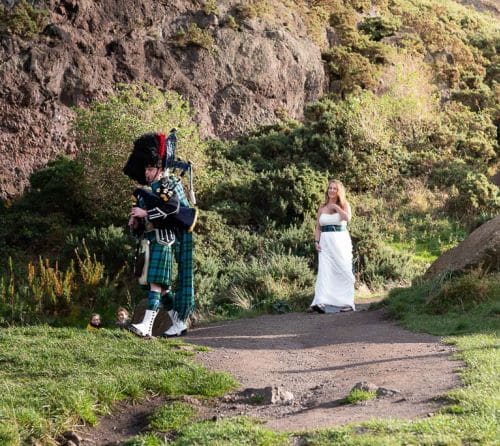 Address to the Couple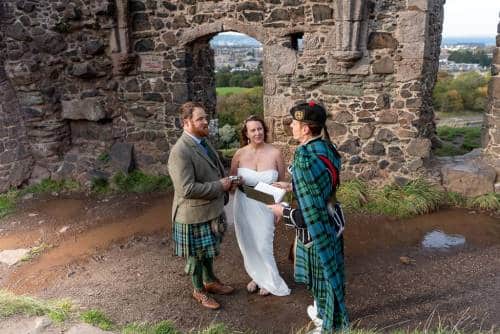 Here I officially welcomed Amy and Joel to St Anthony's Chapel and to their symbolic Scottish wedding ceremony, and explaining the historic significance of the Chapel.
Exchange of Vows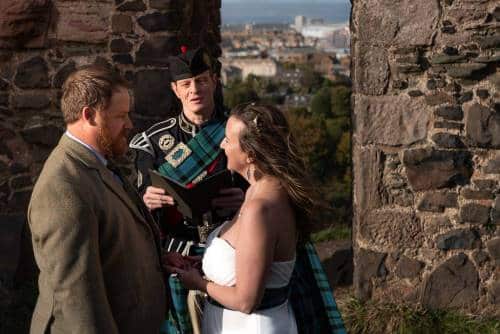 Joel pledges that when Amy's watching a "Chick-flic", he will not complain. He'll be thoroughly entertained and and share in Amy's happiness and joy when watching such high quality, educational and thought-provoking media. Furthermore he'll not prefer to be "just drinking a beer somewhere"!
Exchange of Rings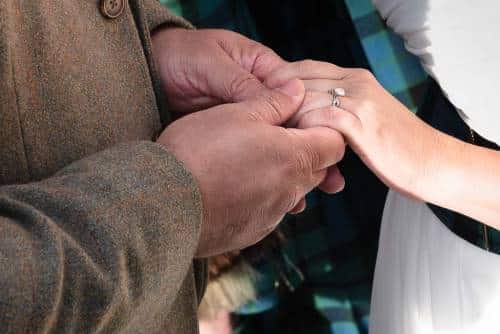 "Amy, I give you this ring to wear with love and joy. I pledge to you all that I am and all that I will ever be as your husband. As a ring has no end, neither shall my love for you. I choose you to be my wife this day and forevermore."
Handfasting Ritual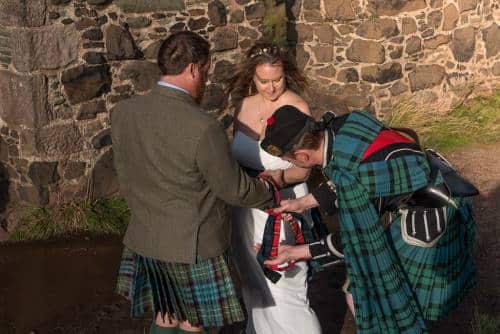 Performing the Handfasting Ritual, where two strips of tartan are looped over Amy and Joels wrists. Then they each pull their ends and they knot together. This is where the term Tying the Knot comes from!
The Wedding Certificate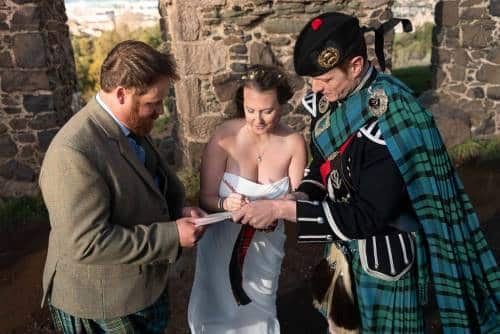 Aimee and Joel sign their personalised "official" Scottish Ceremonial Marriage Certificate in the presence of their bagpiper and celebrant.
Quaich Ceremony
After Amy and Joel signed their official Scottish Marriage Schedule, they shared in drinking from the Quaich. A quaich is a Scottish two-handled cup. Amy Joel each took one handle and then each took a drink of whisky. In sharing the quaich, they mark the bonding of each of their families.
Back to the bagpipes!
Once the Amy and Joel's ceremony was complete, then it was time to get back to the day job – playing the pipes to celebrate the happy couple!
Final thoughts
Amy and Joel's symbolic Scottish wedding ceremony was undoubtedly one of the most enjoyable days I have had as a bagpiper. Amy and Joel are absolutely lovely and I felt honoured to have played such a large part in their day.
I was also very proud that I was able to take on the responsibility of the role of celebrant for their ceremony. I am definitely going to pursue the combination of bagpiper and wedding officiant and offer this service for couples eloping to Scotland. It won't be for everybody, and it does require a couple to have been legally married elsewhere, but for people like Amy and Joel who were looking for a Scottish ceremony with a little bit of difference, there's no better way to do it!
If you would like to elope to Scotland and have me officiate your Ceremony, I'd be most happy to help!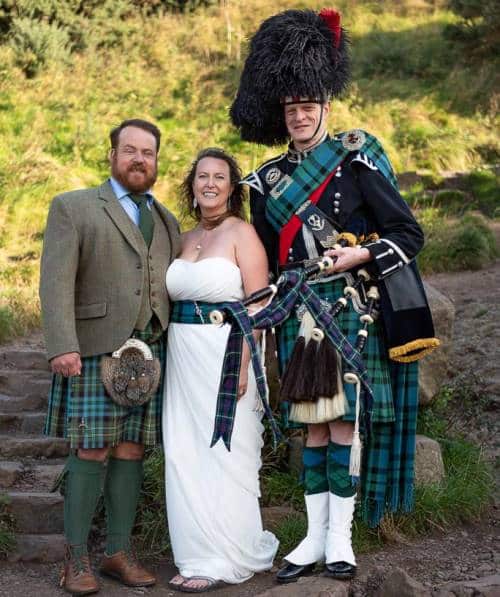 ★★★★★

Glyn was absolutely amazing. I hired him for an elopement ceremony at St Anthony's Chapel in Holyrood and couldn't have made a better choice. He was thoughtful, met with me in advance, and did the best job possible. I can't say enough good things about him and his talent in playing the bagpipes!