Bagpiper Colleagues
These are some of my fellow piper and drummer friends and colleagues, many of whom I've known for many years and regularly perform with. If I'm not available to play at your event, I can recommend any of these fine Edinburgh-based pipers and drummers and put you in touch should you wish.
I do not take any fee or commission for finding another piper for you.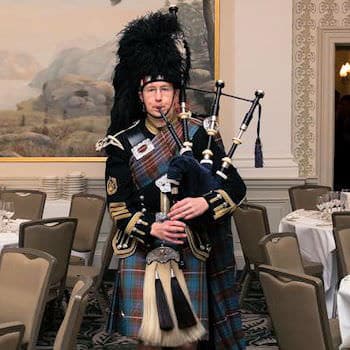 Midlothian-based David is a piper in the famous Boghall & Bathgate Pipe Band, who are the 2023 Grade 1 World Pipe Band Pipe Band Champions! Not only is he a very successful pipe bandsman, but he also has performed at the Edinburgh Military Tattoo and at weddings and events all over the world. He wears Boghall & Bathgate's 'Ancient Hunting Fraser' tartan.
Tommy is an experienced pipe bandsman, and has won several major pipe band championships with the Newtongrange Pipe Band, culminating in the band being crowned 'Champion of Champions'. I regularly perform with Tommy at Cruise Ships visiting Edinburgh, and for Hogmanay events. I'm not sure what he's doing in this photo, and I didn't ask!
Mike is a former soldier of the Queens Own Highlanders. Upon leaving the army he played in the Scottish Gas Pipe Band for many years. He is now a full-time piper and bagpipe teacher. He regularly performs with Piper Louise Marshall at cruise ships, and instructs the Army Cadets in Edinburgh. I regard him as an authority on the tricky job of tying a piper's plaid!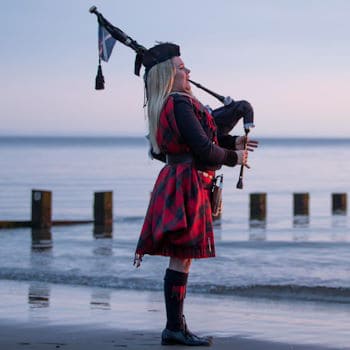 Louise has been the piper for many Lord Provosts of Edinburgh, and is regularly called upon to play at public events in Edinburgh. She's worked with Forth Ports and City of Edinburgh Council for many years, providing a Mini Pipe band for the many cruise ships visiting the city. She plays her father's bagpipes, who piped for countless couples who were married at Gretna Green.
John is a native of Edinburgh and comes from a piping family. He's an accomplished piper and regularly performs overseas as well as at many weddings and events around Edinburgh. He wears his family Dress Macdonald tartan as worn by his grandfather, also a piper. When not playing bagpipes John coaches the Heriot Watt University rugby team.
Norrie is based in Musselburgh, and comes from the Isle of Lewis. He is a former soldier of the Highlanders and wears his regimental Cameron of Loch Erracht tartan. I've played at many different events with Norrie in the Edinburgh area, and in Spain. He plays an excellent rendition of ACDC's "Thunderstruck"! Norrie also plays the Small Pipes.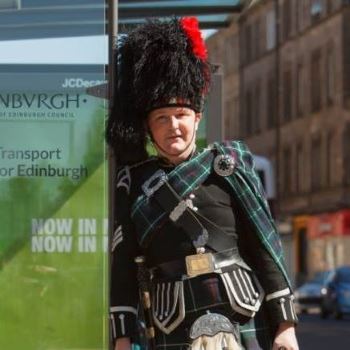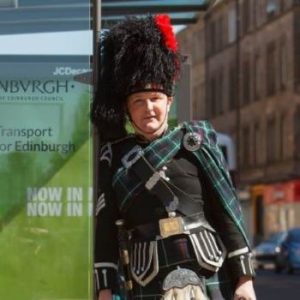 Ivor is from the West Highlands. When he's not piping, he moonlights as a Loss Adjustment Surveyor of damaged buildings. If you spot somebody on the top of a roof wearing a suit, it's likely to be Ivor! He's a prolific composer and also plays the Border Pipes, Mandola and the Button Box. Ivor performed with me for six months in South Korea, promoting Mackies Ice Cream.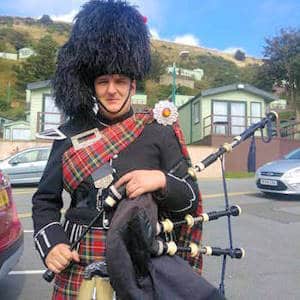 Based in Bonnybridge, near Falkirk, David is a superb piper who plays alongside me in the Fife Police Pipe Band. He's a very experienced weddings and events piper and has even played at the the Queen's Garden Party at Buckingham Palace! Here he is very smartly dressed in the Prince Charles Edward Stuart tartan.
Dean is based in Fife and has been performing at weddings and events since 2006. Dean gets around! I first met him at the
Schottische Musikparade
in Germany. As well a regularly playing at weddings, he's performed at all manner of events, from St Andrew's Night celebrations in the Amazon Dunfermline distribution centre, to the White Collar Boxing Championships!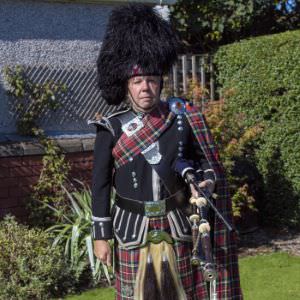 Neil played alongside me in the Grade 1 Fife Police Pipe Band. He's won Major Championships in his Pipe Band career and has performed at many festivals and tattoos overseas. Neil takes great pride in his performances and appearance. You and your guests will enjoy listening to his piping at your wedding or event for which you require a top quality piper.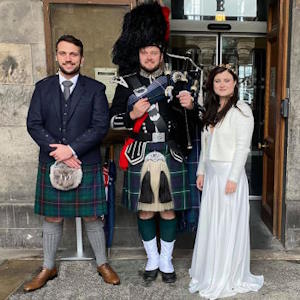 Andrew is a mainstay piper of Edinburgh's renowned
Spirit of Scotland Show
, piping with other musicans to hundreds of guests many nights a week in the summer season. As well as performing in this show, he plays at weddings and events in the Edinburgh area. He's performed all over Europe and Australia. He wears the
Douglas
tartan.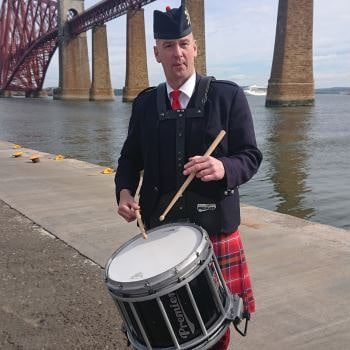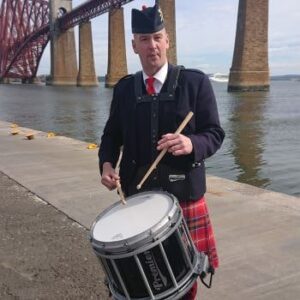 Drum Major Brian Alexander
Brian served in the Black Watch for 25 years and was the army's Senior Drum Major, and Senior Drumming Instructor at the Army School of Piping and Drumming. He also plays the Bugle. He is a drumming instructor in schools around Edinburgh. In this photo Brian's wearing the Red Lichty tartan. I promise a discount to anybody who knows what the Red Licthy is!
As well as being a great piper, David is also a highly accomplished accordianist. He's made numerous recordings and plays with many other musicians, ensembles and theatre companies. David plays the pipes and the accordian for weddings and functions in the Edinburgh area. He's also a mainstay of Edinburgh's renowned Spirit of Scotland Show.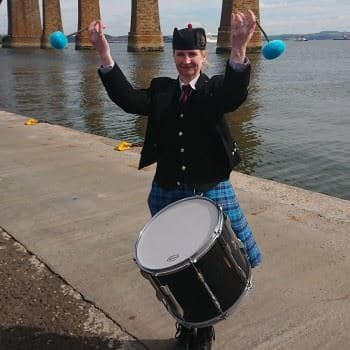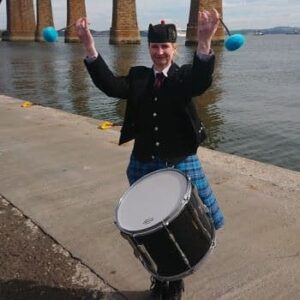 Tenor Drummer Alex Dickson
Alex is a pipe band Tenor Drummer who has played in the Scottish Gas and Fife Police pipe bands. She regular performs with a mini-band for Cruise Ship arrivals and also plays with me at the St Andrews Fairmont Hotel at Hogmanay. A tenor drummer adds greatly to the visual spectacle of a pipe band or mini-band.