What does a bagpiper wear?
I believe it's most important that your bagpiper looks the part, as well as sounding it. My bagpiper uniform is the No.1 Full Highland Dress at most weddings and events. I will not wear any kilt wear and uniform accessories which are not of the finest quality. I am confident that there are very few pipers outwith the military who have such fine uniform and know how to wear it. If you see a better dressed bagpiper, please let me know!
I don't charge any more to wear the Full Highland Dress, unlike many pipers who prefer to wear the far less spectacular Day Dress.
Piper's No.1 Full Highland Dress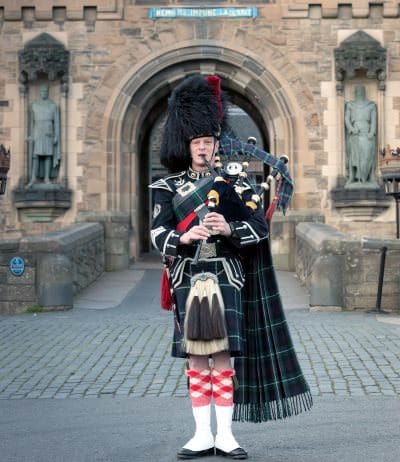 The piper's "No.1 Full Highland Dress" was originally worn by pipers of the historic Highland regiments. "No.1s" were then adopted first by the Govan Police, and when pipe bands took off in the early 20th century, by numerous other police, colliery and civilian pipe bands. Indeed, the No.1 Full Highland Dress was worn by virtually all Scottish pipers and pipe bands until the 1980s when the Strathclyde Police Pipe Band adopted "Day Dress" as their bagpiper uniform due to the No.1 dress being so heavy, impractical, and not to mention very expensive to purchase and maintain. However, as practical as Day Dress is, it provides nowhere near the visual spectacle as a piper dressed smartly in No.1 Full Highland Dress. This is why bagpipers wearing No.1 dress are highly sought after to play at prestigious events.
I wear three No.1 Dress uniforms – My mother's tartan, Ancient Mackay, the Mackenzie of Seaforth as worn by the Seaforth Highlanders and Highland Light Infantry regiments, and the Cameron of Loch Erracht originally worn by the Queens Own Cameron Highlanders.
My bagpiper uniform is the No.1 Full Highland Dress when performing as a Wedding Bagpiper, and at most other events. I do wear Day Dress when playing as a Funeral Piper though, where I feel it's approriate to be a bit more understated. If you have a preference for a particular tartan, please do let me know.
The Kilt
Kilt Pleating
The rear of the kilt which is pleated, can be constructed and styled in a number different of ways, each of which produce markedly different effects despite being made from the same tartan.
The Piper's Plaid
Headgear
Other Uniform Essentials
The quality of bagpiper uniform accessories worn is almost as important as that of the kilt, plaid and feather bonnet. There are many metal parts – belt buckles, the sporran cantle, the dirk, feather bonnet badge and the plaid brooch. They all contribute to the spectacle of the bagpiper wearing No.1 Dress. Good quality items are made from a white metal like nickel and look classy. Modern "stay-bright" buckles and brooches look like what they are – cheap and tacky. When I win the lottery I will go one step further and you will see me wearing sterling silver! Items such as the crossbelt, waistbelt and plaid brooch are not purely for decoration. They're essential to keep the plaid in place.