Bagpiper Uniform Tour
I believe it's most important that your bagpiper looks the part, as well as sounding it. I wear the No.1 Full Highland Dress at most weddings and events. I will not wear any kilt wear and uniform accessories which are not of the finest quality. I am confident that there are very few pipers outwith the military who have such fine uniform and know how to wear it.
If you see a better dressed bagpiper, please let me know!
The Kilt
Mackenzie of Seaforth tartan
Both kilts I wear for No.1 dress are army-issue and have "box pleats" at the rear, unlike civilian "knife-pleated" kilts. Military-weight kilts are very heavy, weighing in at 21 ounces per yard as opposed to 16 ounces for a regular heavy-weight kilt. My Cameron of Erracht kilt is an original Queens Own Cameron Highlanders kilt from prior to their 1961 amalgamation with the Seaforth Highlanders.
Cameron of Erracht tartan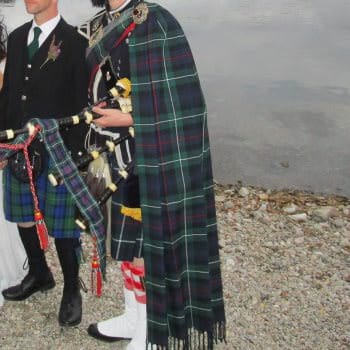 Mackenzie of Seaforth Piper's Plaid
The Piper's Plaid is modelled on the "féileadh-mór" or "Great Kilt" which was worn by highlanders until the early 18th century. The plaid is always the same tartan as that of the the kilt being worn. It is 3.5 or 4 yards long, wrapped tightly around the body, knotted and secured with a Plaid Brooch. This takes some skill to do properly, so the brooch sits proud and the plaid hangs in line with the spats. Unfortunately you will see many pipers nowadays who cannot do this. As a result they look a mess due to flattened pleats and a poorly tied knot.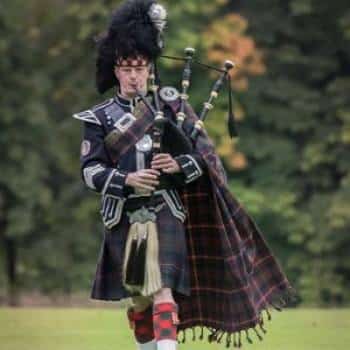 Cameron of Erracht Piper's Plaid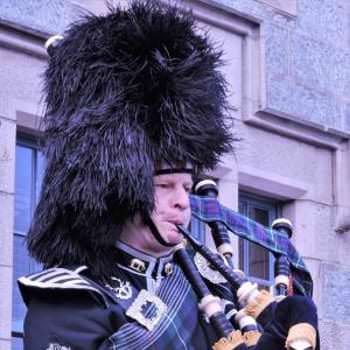 The Feather Bonnet, made from ostrich, was originally worn by Scottish infantry soldiers until the outbreak of World War 1. It is now only worn by pipers and drummers wearing the Full Highland Dress. My feather bonnet is made by a UK-based military supplier. It is of noticeably higher quality and looks far better than cheap ones made abroad, which are worn by many pipers.
A proper feather bonnet like this has five tails and a coloured "hackle". The badge worn on the left hand side of the bonnet is at least 140 years old and is actually a piper's plaid brooch of the Inverness-shire Militia. I have added the Thistle and Crown of the Cameron Highlanders to it.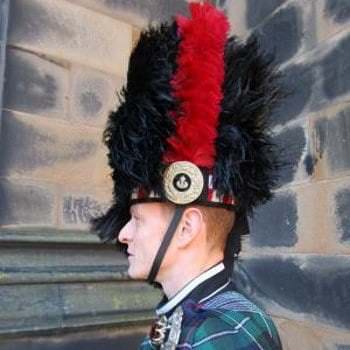 Other Uniform Essentials
The quality of uniform accessories worn is almost as important as that of the kilt, plaid and feather bonnet. There are many metal parts – belt buckles, the sporran cantle, the dirk, feather bonnet badge and the plaid brooch. They all contribute to the spectacle of the bagpiper wearing No.1 Dress. Good quality items are made from a white metal like nickel and look classy. Modern "stay-bright" buckles and brooches look like what they are – cheap and tacky.
When I win the lottery I will go one step further and you will see me wearing sterling silver!
Items such as the crossbelt, waistbelt and plaid brooch are not purely for decoration. They're essential to keep the plaid in place.
Belts
The diagonal "Crossbelt" is from the Gordon Highlanders. It also features a 19th-century brooch of the Cameron Highlanders, and the Stag emblem with Gaelic motto "Cuidich 'n Righ" (Aid the King) of the Seaforth Highlanders. The Waistbelt is also Gordon Highlanders. Both are made of nickel.
Plaid Brooch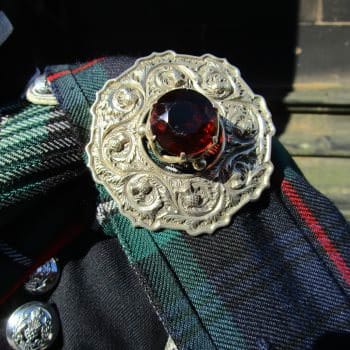 This Plaid Brooch is Victorian with a "Cairngorm Stone". I am unsure if it is regimental. It does feature very similar thistle embossing as my Gordon Highlanders Crossbelt and Waistbelt and matches these nicely.
Collar Dogs
Everybody asks about these! These brass collar dogs featuring elephants, were worn by the Seaforth Highlanders and commemorate the Battle of Assaye in 1803, in which the regiment fought.
Sporran
This is a horse hair Piper's Sporran with three tassles and an ornate cantle. It was in Victorian times that the sporran became a decorative adornment to the Highland Outfit. However, the sporran was traditionally a leather pouch used to hold a day's supply of oatmeal – the Highlander's daily rations!