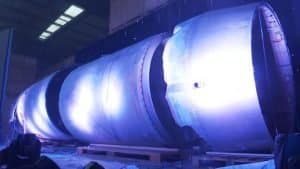 Penicuik, just south of Edinburgh has not been a place associated with the space industry until now! On 25th of January I was piping for the return of the first and only successful UK orbital launch rocket, the Black Arrow. This Black Arrow was launched from Woomera, South Australia on 28 October, 1971 and deployed a satellite.
Edinburgh-based rocket developer Skyrora has brought the rocket back to the UK where it will be put on display and used for educational outreach.
At its unveiling ceremony today in Penicuik were two of its designers, Derek Mack (86) and Mike Kelleway (78), who hadn't seen it since its launch five decades ago.
It was then back to Skyrora's Princes Street HQ to pipe in the Haggis for their Burns Supper.