Inverness-shire Militia Plaid Brooch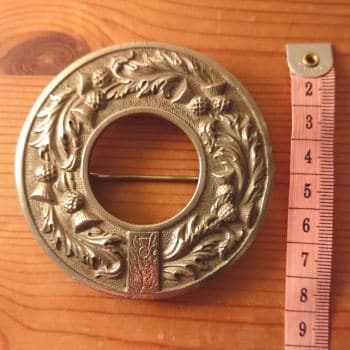 My mother was a great frequenter of Jumble Sales, Car Boot Sales and Charity Shops over the years, and would regularly come home with some great finds. I remember when I she found this plaid brooch for me in one of the regular Jumble Sales held in the Kingussie Church Hall, in the early 1990s.
I was never too sure what it actually was. It's not like a regular piper's plaid brooch with a Cairngorm Stone in the middle. Nor does it have any obvious regimental insignia to be found on similar items from the Seaforths, Camerons, Gordons or the Black Watch. It's also a couple of centimetres smaller in diameter than most plaid brooches you see.
Nevertheless it's obviously a well-worked and fairly intricate piece made of nickel, which you don't see modern brooches made from. I thought it was perhaps a brooch for a "Fly-Plaid". Regardless, I've always used it to adorn my Feather Bonnet shown in my Uniform Tour. Being a little bigger than the cap badges usually worn on a Feather Bonnet, I thought it looked that bit better. It always bugged me that I didn't know where it came from though. I don't like to wear historic items of uniform without "knowing the story", so to speak…
Now fast-forward circa 25 years, from the early 90s to last week. I was doing my regular internet search for piping uniform accessories, and I saw the exact same brooch posted here on Pinterest by a Scottish militaria expert whom I know, detailing it as a Piper's Plaid Brooch of the Inverness-shire Militia from circa 1850.
The Inverness-shire Militia were formed in 1802 and served on garrison in a number of places around the UK, and also supplied men to regiments fighting in the Crimean War. They were re-designated in 1876 as the 76th (Highland Light Infantry) Militia, and in 1881 became the 2nd Battalion of the Queens Own Cameron Highlanders.
Given that the Militia became a battalion of the Camerons in 1881, no brooches would have been produced since then due to the pipers being supplied with Cameron Highlanders uniform. I think that must put my mother's "Jumble Sale Gem" at a very minimum of 137 years old!
I'm still wearing this brooch on my feather bonnet with a Cameron Highlanders collar dog fixed in the middle (more on the feather bonnet in my Uniform Tour).
The brooch on Pinterest had been already been sold in auction, so I don't know what it's worth. I'm cringing though, at the thought of when my feather bonnet and said plaid brooch went AWOL on the London Underground after a Burns Supper last January, and didn't find their way home until March…